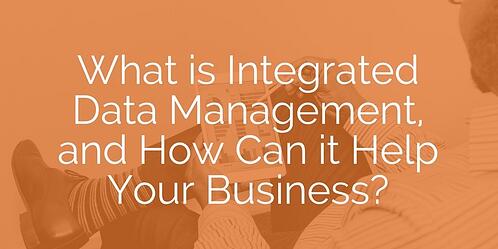 What is Integrated Data Management, and How Can it Help Your Business
Integrated data management can be defined as bringing many data sources together to aid the daily functions of a business. In accounting terms, this can include a business' Accounts Receivable and payable, and invoicing processes. This is usually done with some kind of invoicing software system.
Having the ability to manage these processes in one place means there is less to-and-fro between documents, and less time wasted. Even better, these processes can be automated with the right software. Accountants can then spend less time printing and mailing invoices, emailing debtors, following up accounts, and processing payments. This leaves time to focus on other activities to help grow the business.
Utilising an integrated data management system means you are improving efficiencies and costs. Time and resources are vital tools in any business, and if you have more of these to spare you will benefit greatly.
Businesses which don't take advantage of data and invoicing software don't settle invoices as often or as quickly as those that do.
They also may experience poor cash flow and unnecessary overhead costs. This can be due to the time of employees being spent doing menial and time-consuming tasks.
A well developed system can also streamline your internal workflow processes, collate data from various sources, and generate custom reports for your business and clients. Developing reports can be a timely process, especially when they need to be customised for clients.
The return on investment for data management software means it is an affordable business solution. No matter the size of your business. Integrated data management can make your business accounting processes smoother and faster. This then frees up time to spend on other ways to grow your business. Invoicing software can also save you money in the long run, which is especially important for small to medium sized businesses.
Apxium provides access to simplified invoicing and Accounts Receivable software for any size business. Using Apxium can help you in achieving more time, money and resources to allow your business to grow.
Discover how Apxium can help you with your integrated Accounts Receivable system today.